Krispen Culbertson Reviews…
can be found across the internet on various, highly respected legal reviews and legal directory websites. Below you will see some of those reviews from sites like AVVO.com, BBB.com and Lawyers.com, to name a few.
Browse our excellent reviews with these and other sites around the web here below. Click any image below to go to the site and read our reviews.
Krispen Culbertson's reviews at AVVO are outstanding. Five (5) stars from a prestigious, well known legal reference website. Over 95% of US lawyers are rated by AVVO.

Krispen Culbertson received the 2018 Client Champion Gold award from Martindale's. Martindale.com is one of the premier attorney reviews and reference sites online today.

Culbertson & Associates has an A+ Accreditation with the BBB (Better Business Bureau) of North Carolina. The BBB started in 1912 and has been evaluating and rating other businesses for over 100 years.

Lawyers.com is another well-respected and influential leader in the legal reviews field.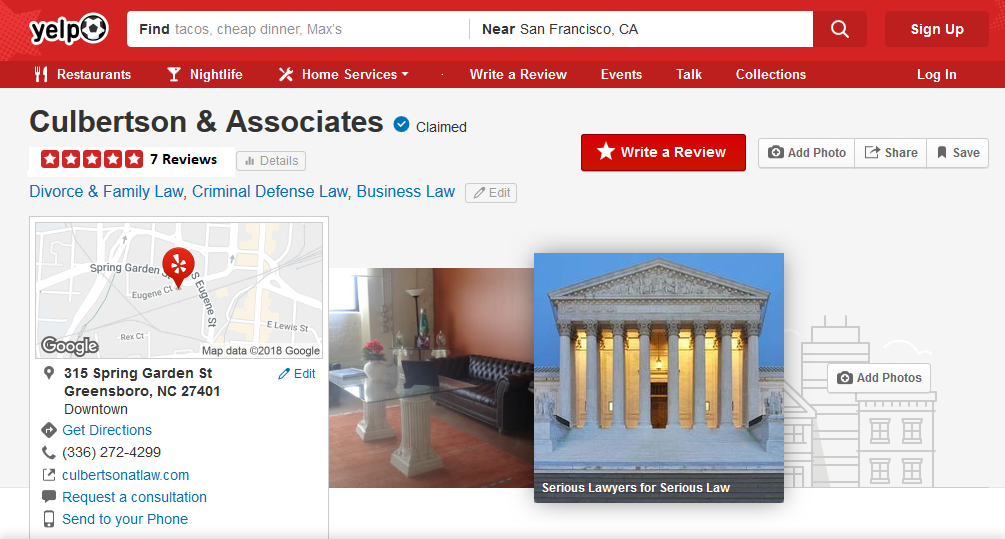 Here you will see excellent reviews that real clients of ours chose to post to Yelp. Yelp claims that these are not real reviews. We'll let you, the consumer; decide what's real here. Since we've been asked numerous times if we are licensed to practice law in North Carolina, we've posted a copy of my law license on the new 'Krispen Culbertson Attorney Facts' page.

"I was in trouble with no hope. Went to the office of Culbertson & Associates, hired Kris and put my worries in his hands. He was capable and determined, thus getting my case reduced to minor charges.
Many thanks to him and his team."
"HELPED MY Family — We hired K. E. Culbertson to help with our child custody case…a very scary and stressful situation for me to say the least! Mr. Culbertson was so understanding and assured me that we could get the results we wanted, which proved to be true. I am thankful to him for helping our family."
"I hired K.E. Culbertson at the recommendation of a colleague for help with some corporate law matters. Serious Law took charge of my issues and handled my case with experience and knowledge. This firm is now my only go-to for corporate law."
QUESTIONS ABOUT A LEGAL ISSUE? CLICK TO EMAIL
CLIENT FOCUSED RESULTS
When you are looking for a lawyer or attorney 'near me',
Culbertson & Associates is your answer
with offices in Greensboro and Salisbury NC.
Our service area also includes Winston Salem, High Point, Burlington, Thomasville, Asheboro, Lexington, Kannapolis & Mooresville
North Carolina.